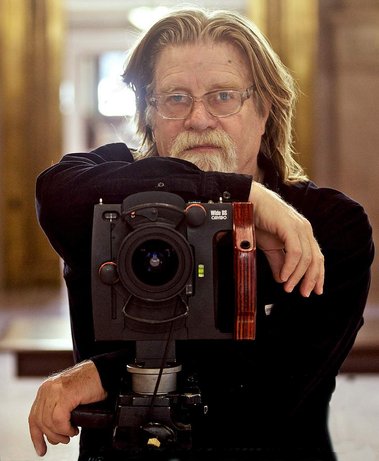 About Michael Eastman
Michael Eastman has established himself as one of the world's leading contemporary photographic artists. The self-taught photographer has spent five decades documenting interiors and facades in cities as diverse as Havana, Paris, Rome, and New Orleans, producing large-scale photographs unified by their visual precision, monumentality, and painterly use of color. Eastman is most recognized for his explorations of architectural form and the textures of decay, which create mysterious narratives about time and place.
Eastman's photographs have appeared in Time, Life, Art in America, Art News, Art Forum, Communication Arts and American Photographer, and they reside in the collections of The Metropolitan Museum of Art, the International Center of Photography, The Art Institute of Chicago, the Los Angeles County Museum of Art, and other prestigious institutions. His books include Havana (2011, Prestel), Vanishing America (2008, Rizzoli) and Horses (2003, Knopf).
Collections
Amon Carter Museum, Texas

Art Institute of Chicago

High Museum of Art, Atlanta

International Center of Photography, New York

Kemper Museum of Contemporary Art, Kansas City

Los Angeles County Museum of Art

Metropolitan Museum of Art, New York

Nelson-Atkins Museum of Art, Kansas City

New Mexico Museum of Fine Arts

New Orleans Museum of Art

Oklahoma City Museum of Art

Pizzuti Collection, Columbus, OH

Polaroid Collection

Rockefeller Collection

Saint Louis Art Museum

San Diego Museum of Contemporary Photography

San Francisco Museum of Modern Art

Sheldon Museum of Art
The George Eastman Photographic Collection, Rochester

Ulrich Museum of Art, Kansas

Wieland Collection, Atlanta

Wilding Art Museum, California

21C Museum, Louisville
Books
Contact


Galleries
Edwynn Houk Gallery
New York, New York
Robert Koch Gallery
San Francisco, California
Holden Luntz Gallery
Palm Beach, Florida
William Shrearburn Gallery
Saint Louis, Missouri
http://www.shearburngallery.com/